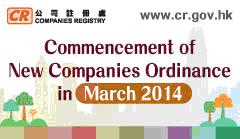 Major Highlights on New Companies Ordinance
A new Companies Ordinance, which consists of over 900 sections and 11 schedules, will come into operation on 3 March 2014. The purpose is to enhancing corporate governance, facilitating business operation and improving regulation for incorporation and operated companies of Hong Kong.
We will go through some major highlights of the new Companies Ordinance.
2. Removal of Memorandum of Association
3. Director

5. Company Maintenance and Statutory Requirements
6. Disclosure of Residential Addresses and Identification Numbers