Electronic Company Directory | 電子公司水牌
|
We noticed that many company owners may neglect the importance of listing the company name in the company directory, which is one of the charters in the Company Ordinance. Therefore, we will introduce the related Company Ordinance and explain why it is significant to show your company name in the company directory.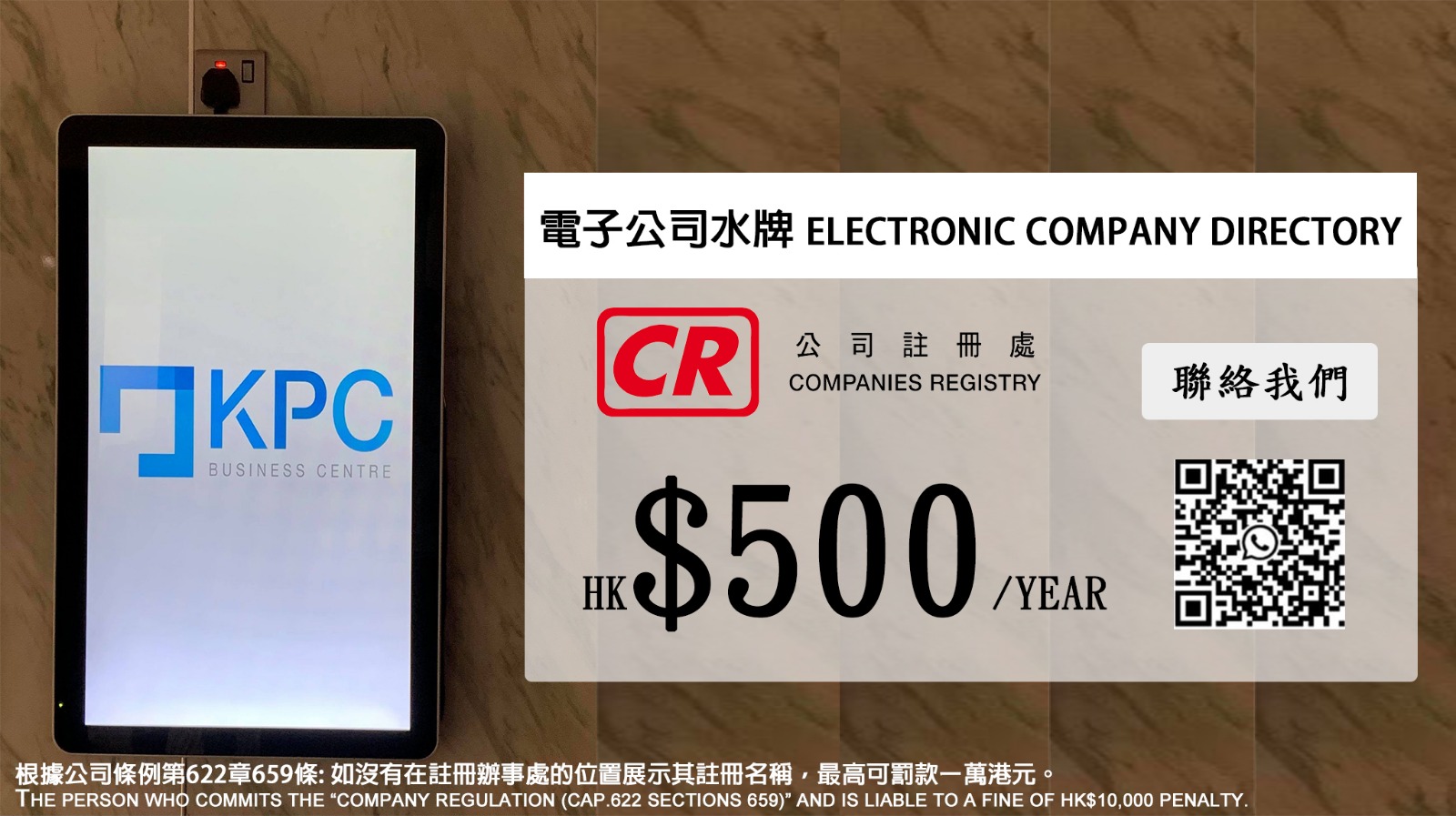 According to "Company Regulation (Cap.622, sections 659 and 660, 3(1-3) which is published in 2014 by HK Government. A company must display continuously its registered name in its registered office and every business venue of the company. The registered name must be so positioned that it may be easily seen by any visitor to the office or business venue. If the registered or business venue of more than 6 companies, the company name could be displayed through an electronic device.
The company Registry will inspect the company directory without any notification. No matter Company owners are using physical or virtual office as their registered business address, they have the responsibility to comply with the Company Ordinance. The person who commits the ordinances and is liable to a fine of HK$10,000 penalty.
In order to prevent the penalty, it is recommended to arrange the company directory issue as soon as you can. Please feel free to contact us, KPC Business Centre provides electronic company directory service which is HK$500/year. For more details, please click HERE.
---
許多公司擁有人可能忽略了在《公司條例》中規定在註冊地址展示公司名稱的事宜。因此,我們將介紹相關的《公司條例》,並說明為什麼在公司水牌中顯示您公司名稱的重要性。
根據香港政府於2014年發布的《公司條例》(第622章,第659和660條,第3(1-3)項)。公司必須在其註冊辦事處和每個營業地點顯示其註冊名稱。註冊名稱置於可讓有關處所的訪客易於看見的位置,則該公司已遵從有關披露的規定。如果註冊或營業場所擁有6間以上的公司,則可以通過電子設備顯示公司名稱。
公司註冊處會定期在無任何通知的情況下實地檢查公司水牌。不論是使用實體/虛擬辦公室的擁有人都有責任遵守《公司條例》,干犯本條例者,最高可罰款港幣$10,000。為避免罰款,我們建議您盡快安排公司水牌的事宜。尖沙咀商務中心正提供每年$500的公司電子水牌服務。有關詳細資料,請點擊這裡。