Celebrating KPC Business Centre 12th Year Anniversary with Our New Service| 慶祝尖沙咀商務中心成立12週年
|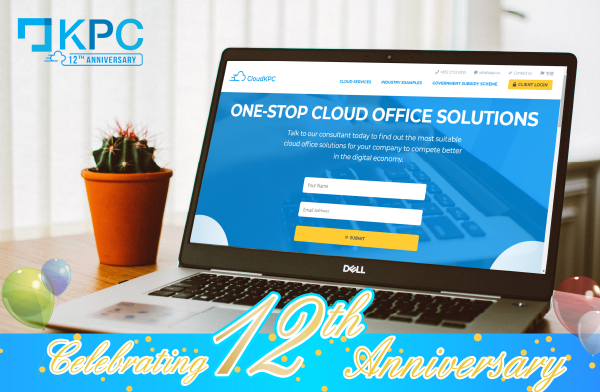 Dear our valued Clients:
Thank you for being valued clients of KPC Business Centre. We really appreciated your support in the past 12 years.
KPC Business Centre is delighted to announce the celebration of its 12th anniversary. Throwback to the past 12 years, KPC has been assisting many local and foreign entrepreneurs and start-ups to grow their business successfully. We have successfully expanded our services scope in various area to cater for your growing business needs. Meanwhile, we are also proud to announce the launch of CloudKPC – one stop cloud office solutions.
We noticed that many businesses have been incorporated with digital tools and strategies during the effects of Covid-19. These tools are helping many organisation to maintain daily operation. In view of this trend, KPC decided to provide CloudKPC Office System to our valued customer. Totally 6 elements will be launched (KCloud Document Management System, KCloud HR & Payroll System, KCloud Customer Relationship Management System, KCloud Invoicing Management System, KCloud Online Booking System and KCloud Virtual Office Management System). We believed that the CloudKPC is the most suitable cloud office solutions for your company to compete better in the digital economy. For more details, please visit https://cloud.kpc-hk.com/
Once again, thanks a ton for the enthusiastic support from our valued clients. We promise to provide our prestigious client with increased dedication in future to come thus maintaining our integrity
Your Sincerely,
KPC Business Centre
=============================================================
尊敬的客戶:
感謝您成為尖沙咀商務中心的尊貴客戶,在過去12年中的一直支持。
自2008年營運至今,尖沙咀商務中心一直在協助許多本地和外國企業家和初創企業成功地發展其業務。我們已成功擴展了我們在各個領域的服務範圍,以滿足您不斷增長的業務需求。為了慶祝這特別的日子,為了慶祝這特別的日子,我們將推出一項新的服務 – 一站式雲端辦公室方案。。
我們注意到在新型肺炎疫情期間,許多企業已使用數位工具和策略維持日常運營。鑑於這趨勢,KPC決定向我們尊貴的客戶提供CloudKPC一站式雲端辦公室方案。當中6個系統包括:(KCloud文件管理系統,KCloud 人力資源管理系統,KCloud客戶關係管理系統,KCloud電子發票管理系統,KCloud網上預約系統和KCloud虛擬辦公室管理系統)。我們相信CloudKPC是最適合您的公司的雲端辦公室解決方案,有助提升貴企業在數碼經濟中的競爭。有關更多詳細信息,請訪問https://cloud.kpc-hk.com/
再次感謝尊貴的客戶多年來的熱烈支持。我們承諾在未來幾年中為我們的尊貴客戶提供更專業精神,從而保持我們的誠信。
耑此
尖沙咀商務中心